Author: Mirza Baig
Key Capabilities of SAP Configure Price Quote (CPQ)
SAP Configure Price Quote (CPQ) streamlines your quote, approval and proposal process for your configurable product offering, so your company can sell faster.
In this blog post, we will discuss another set key capabilities that are out-of-the-box features. They should be kept in mind when comparing with other CPQ solutions.
This is a part 2 of a 3 part blog series covering selected capabilities of SAP CPQ
Part 1 focuses on Product Configurator/Responder, Rules Engine & Pricing
Part 2 focuses on Guided Selling, Cross-sell/Up-sell, Approvals, Proposals & Reporting
Part 3 focuses on Integration, Cloud Deployment, User Experience & Administration.
SAP CPQ Capabilities
Guided Selling, Cross-Sell and Up Sell
Guided selling allows users to search for relevant products based on attributes they are looking for. As the name implies, the purpose is to guide the user's product search journey by displaying only relevant products. With each product attribute that a user selects, CPQ keeps narrowing down products to match results providing real-time sales guidance.

Maximize deals with Cross-sell and Up-sell features in SAP CPQ
SAP CPQ is a deal maximizer. With cross-sell and up-sell features, you can increase the average quote value and the deal-size by proposing more expensive products and related additional products. Based on rules in SAP CPQ, you can automate recommendations of premium products or to offer incentives for increased quantities. SAP CPQ can suggest related products, accessories, services, or bundles to users and maximize revenue.
Approvals Workflow
SAP CPQ ensures sales reps do not give too much discount when trying to close a deal. Routing these quotes for approval automatically can avoid delays in getting them out to the customer while ensuring appropriate checks are in place.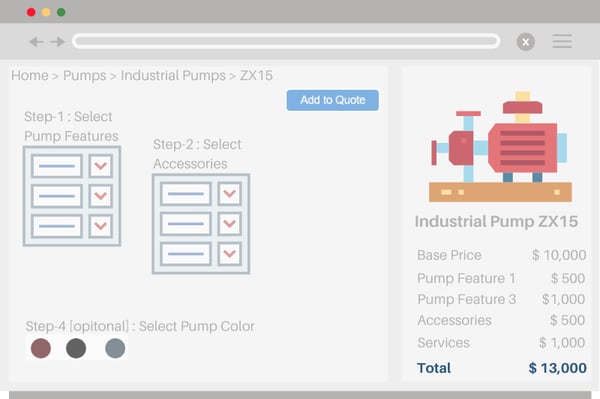 Sales Rep can submit discount approval in SAP CPQ
For instance, Sales reps can be restricted to put a discount on the quote in excess of 10% without requesting approval from the sales manager. In addition, CPQ can be configured to send all quotes through the sales engineering team for approval before a proposal is sent to the customer.
Document Generation
This functionality in SAP CPQ allows admins to create document templates with layout, branding, style, fonts, and images for their company and products resulting in a printable quote which can also be downloaded or emailed from within the solution.
Generate and email proposal to customer with SAP CPQ
It provides a practical solution to users who create quotes and often want to email them to customers for review. Typical use cases are proposals, quotes, license agreements, etc that can also include fact sheets, case studies, and product-related contents.
Reporting
Native reporting in any enterprise system can be quite handy for quick and simple reporting needs. The Report Module in SAP CPQ is a native reporting tool that can help admins generate reports in 2 steps. The first step is to create a data source, which is a database view of a table or a SQL Query of your database instance. The second step is to use Report Wizard to build the report by providing filters, permissions groups and selecting the template for the report.
SAP CPQ provides reporting options for your day-to-day operations
Admins can generate a report with any specific filters, permission groups and template. These reports can be accessed by the business users who are in the same permission groups that are assigned to report. Of course, an integrated Business Intelligence & Analytics systems can always be leveraged for more complex reporting requirements.
Final Thoughts
Features such as Guided Selling, Cross-selling and Up-selling empowers sales reps to maximize deals. Whereas approvals workflows keep checks and balance in place for over the limit discounting.
Leveraging key capabilities, SAP CPQ helps companies generate proposals quickly and accurately managing simple or complex quotes and run day-to-day reporting.
If you would like to learn more about SAP CPQ, You can find information on products, rules, and pricing, Part one, and learn about Integration, Cloud Deployment, User Experience & Administration by reading Part 3.
If you have other questions about SAP CPQ or sales performance in general, please reach out to our team at https://canidium.com/contact/ and we will get back to you shortly.
Learn more about the author, Mirza Baig.