Author: Mirza Baig
Key Capabilities of SAP Configure Price Quote (CPQ)
SAP Configure Price Quote (CPQ) solution is a fusion of robust functionality, performance, and intuitive user experience (UX). SAP CPQ also eliminates quote errors and empowers sales reps to sell using easy-to-use configuration flow and pricing.
In this blog post, we will discuss a few key capabilities that are out-of-the-box features. They should be kept in mind when comparing with other CPQ solutions.
This is a part 1 of a 3 part blog series covering selected capabilities of SAP CPQ
Part 1 focuses on Product Configurator/Responder, Rules Engine & Pricing
Part 2 focuses on Guided Selling, Cross-sell/Up-sell, Approvals, Document Generation
Part 3 focuses on Integration, Cloud Deployment, User Experience & Administration
SAP CPQ Capabilities
Customizable Product Configurator/Responder
This key functionality empowers companies to map their business requirement of quoting complex products to the SAP CPQ solution. Using the customization (setup), SAP CPQ allows administrators to create configurable products with all of their available options.
SAP CPQ Product/Service Configurator view on the left-side and Responder view on the right-side of the screen
End-users can then search for that product through a category or the quick search field, and begin to configure it using the Configurator. A product's configuration is achieved by selecting allowable options, known as attributes in SAP CPQ, which can be displayed as drop-down list boxes, check-boxes, radio buttons, entry fields (text box), etc.
If any required attribute is not selected, the product configuration is flagged as incomplete and cannot be added to the quote. Simple products, such as accessories, that do not require configuration can also be added to the quote from the configurator. Bulk validation (reverse search using multiple part numbers) in the Configurator provides a quick way to copy/paste part numbers and add them to the quote immediately.
The Responder is a summary view of your product configuration displayed on the same screen, right next to the Configurator. It displays the selected values that a user made in the configurator as well as its price, which makes up the total product price.
Robust Rules Engine
The rules in the Configurator ensure that sales reps cannot select incompatible or non-applicable attributes for a configurable product. The SAP CPQ product catalog is backed by a powerful rules engine, which allows each product to have a number of allowable attributes associated with it.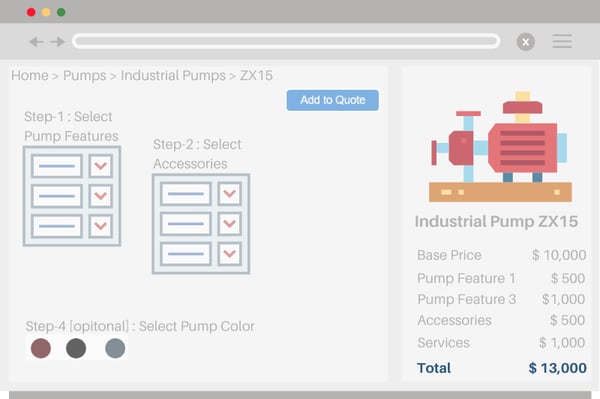 SAP CPQ's Rule-Based Configuration: If product feature 3 is selected,
hide all Services option
This enables users to create an accurate product configuration by displaying only the applicable attributes that users can select. The formula builder tool within SAP CPQ helps create rules in a user-friendly way. In addition, rules can help build dynamic part numbers and product descriptions.
Pricing Guidelines
SAP CPQ can manage complex pricing calculations and provide margin guidance. Flexible pricing via price books, multiple currencies, and market factor multipliers for each market (region/country) help price the products and their attributes automatically. This reflects in-accurate pricing within quotes and proposals.

Serve global markets in their currencies with SAP CPQ
Price can be adjusted when a quote is created. A discount over a certain threshold can be set up in a way that would require approval from the manager. Similarly, margin protection guard rails can be enabled to ensure users make an informed decision for discounts, while maintaining a good profit margin.
Final Thoughts
SAP CPQ is a full enterprise-grade solution. It can support quotes with up to 100 thousand lines, customer-specific pricing, and a wide range of languages and currencies.
Small or mid-size companies with only a few sales reps or large enterprises with as many as tens of thousands of sales reps can empower their sales teams and grow with SAP CPQ.
If you would like to learn more about SAP CPQ, You can find information on guided selling, Cross-sell/Up-sell, Approvals, Document Generation by reading Part 2, and learn about Integration, Cloud Deployment, User Experience & Administration by reading Part 3.
If you have other questions about SAP CPQ or sales performance in general, please reach out to our team at https://canidium.com/contact/ and we will get back to you shortly.
Learn more about the author, Mirza Baig.