Author: Mirza Baig
Key Capabilities of SAP configure, price, quote (CPQ)
SAP Configure Price Quote (CPQ) solution not only empower sales teams but play a key role to enable end-to-end business process.
It can work as a standalone solution, but is more often integrated with a Customer Relationship Management (CRM) system and an Enterprise Resource Planning (ERP) system to manage your end-to-end business process.
In this blog post, we will discuss another set key capabilities that are out-of-the-box features. They should be kept in mind when comparing with other CPQ solutions.

This is a part 3 of a 3 part blog series covering selected capabilities of SAP CPQ
Part 1 focuses on Product Configurator/Responder, Rules Engine & Pricing
Part 2 focuses on Guided Selling, Cross-sell/Up-sell, Approvals, Proposals & Reporting
Part 3 focuses on Integration, Cloud Deployment, User Experience & Administration
SAP CPQ Capabilities
CPQ Integration
SAP CPQ is an agnostic solution which does not require an integrated Customer Relationship Management (CRM), Enterprise Resource Planning (ERP), Contract LifeCycle Management (CLM), E-Commerce or E-signature applications. However, most companies have at least one or more systems integrated with their CPQ system, with CRM being the most common integrated system followed by ERP.
SAP CPQ integrates with CRM, ERP and other systems
Of course, SAP CPQ has an added advantage of native integration with SAP C4C, SAP S/4HANA, SAP ECC, SAP CLM and SAP Commerce Cloud systems. For instance, SAP CPQ can be integrated with SAP Variant Configuration (VC) to form a hybrid (cloud - on-prem) integrated solution. SAP VC supports manufacturing and fulfillment processes for complex product offerings.
To get the most out of any CPQ solution, it should integrate with CRM and ERP as well as CLM and E-Signatures solutions. SAP CPQ integration capabilities enables seamless lead-to-cash business process integration across multiple systems whether they are SAP or not.
Cloud Deployment
SAP CPQ is a cloud-based software-as-a-service (SaaS) solution. This means your sales team can easily access customer data, configure the products, manage quotes and pricing, and generate proposals while they're on the road or visiting customers.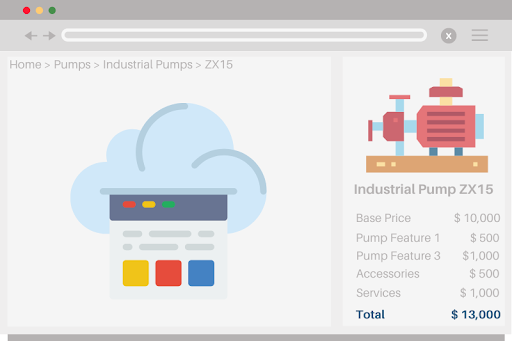 SAP CPQ is a cloud solution, part of SAP Sales Cloud portfolio
Cloud deployment also makes your CPQ solution work like a B2B or B2C self-service portal, providing relevant access to your customers and channel partners. Quarterly system updates means companies are always on the latest version of SAP CPQ with new features without having to spend time, effort and budget on a upgrade project.
User Experience (UX)
Remember, UX is all about the overall feel of the user's experience. So, simplicity and speed across the entire user's journey of configuring products, creating quotes, and generating proposals is the key to user adoption.
SAP CPQ provides a responsive UX/UI for mobile, tablet and desktop
SAP CPQ provides an intuitive user interface (UI) with relevant information at end-users' fingertips. It's also responsive to mobile devices, adapting to various mobile devices such as tablets and smartphones. SAP CPQ is capable of generating quotes of 10,000 lines or more in seconds with an independent, scalable platform.
Administration
CPQ Administrators, Business Analysts or Power/Key Users are empowered to manage product and pricing information, approval rules and discount levels, and promotions and define currencies, exchange rates and user access, without much help from the IT team.
SAP CPQ many point and click configuration setup for the Administrators
This can speed up your ability to adjust to market situations and reduces extra costs and dependencies that companies have managing their CPQ solution.
Final Thoughts
SAP CPQ is truly omni-channel offering responsive user experience offering consistent look and feel as another solution of C/4HANA suite. It offers benefits of native integration of SAP eco-system for the Lead-to-Cash process.
Administrators of SAP CPQ can enjoy the powerful point and click setup for all key capabilities discussed in all 3 parts of this blog series.
If you would like to learn more about SAP CPQ, You can find information on Product Configurator/Responder, Rules Engine & Pricing by reading Part 1, and learn about guided selling, Cross-sell/Up-sell, Approvals, Document Generation by reading Part 2.
If you have other questions about SAP CPQ or sales performance in general, please reach out to our team at https://canidium.com/contact/ and we will get back to you shortly.
Learn more about the author, Mirza Baig.